Foreign companies: Show your brand in Brazil
We serve Global Brands from China, USA, Germany, Italy, France, England, Spain and others. Come here . Advertise in Brazil. We are with open arms!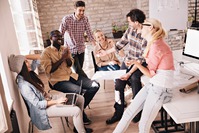 Welcome to newBRAsil ™ Out Of Home Media Advertising - In Guarulhos - São Paulo - Brazil.

Dynamic, Daring, Young and Creative
From a Press Office; Fábrica de Noticias São Paulo Press, born in 2006, appears on May 7, 2010, the trading desk agency, newBRAsil advertising Out Of Home Media, to meet a new search demand for the Foreign Media segment in the metropolitan region of São Paulo: cities of Alto Tietê and ABCDM-Osasco region, Vale do Ribeira and Vale do Paraiba, in view of the advance of the Clean City Law, in São Paulo. The advertising space supplier, which is literally opportunistic, in the good sense of course, is based in Guarulhos. It was born to occupy an open space, left or not yet perceived by large communication companies, which are the service to small business segments; small stores and liberal professionals, however, being also prepared to serve large advertising agencies and large companies, including brands and franchises already renowned. The new has today a lean and decentralized structure, which offers a "service bureau" in integrated communication much more dynamic, less bureaucracy and with much more agility in serving its customers advertisers throughout Brazil, being agenciados or not, through its marketing departments.